! THM 131009>

Welcome to Mary Ann & Tim's travelog for New Mexico.
This is a personal website. Please do not link to it.
MA & T in New Mexico

21 days' driving, 2958 miles.

Highlights

Hiking: Mesa Verde Spruce Tree House trail, Osha trail in Cloudcroft and the Willie White / Wills Canyon trail also in Lincoln National Forest in the Sacramento Mountains. NB all high country to avoid the heat.

Culture: Pueblo (Indian Pueblo Cultural Center in Albuquerque, Mesa Verde, Chaco Canyon, Acoma, Western New Mexico Museum in Silver City for the transition to agriculture), Apache (Zuni, Canyon de Chelley: "Canyon d'shay" whence the Navajo were forced on their Long March by Kit Carson), Spanish-Mexican, and a stop at the Santa Fe Opera - roofed but open - which makes us want to return just for a performance.

Art: Georgia O'Keeffe limited to the outside of her house in Abiquiu (we did not book a tour; no photos) and a limited collection at her museum in Santa Fe (it's preparing a new show); stops in Madrid and Dixon; the Harwood Museum in Taos; Museum of Contemporary Native Art in Santa Fe; in the air and everywhere.

Physics: Bradbury Museum in Los Alamos, National Solar Observatory on Sacramento Peak, Museum of Space History in Alamogordo (and the White Sands Missile museum was shut down for the duration by the Tea Party), Very Large Array radio telescope.

Geology: the Valles Caldera of a supervolcano which blew 1.6 million years ago and intermittently until 1.2 million years ago, throwing rocks as far as Kansas and depositing 900 feet of ash layered with lava under Los Alamos and at Bandolier National Monument: hence the mesas and tent rocks all around. The caldera collapsed during the subsequent eruptions in concentric rings, like an upside-down cribbed roof, creating all the small mountains within.

Biology: elk closeup (by binoculars) at Valles Caldera, with three impressive males, one dominant; mule deer crossed in front of us at the VLA; ponderosa and pinyon pines, and white fir in the high lands; juniper, Joshua trees, chamisa, yucca, cactus and many unidentified flowers whose photos we do not display here.

Food: Jalapeno's in Santa Fe was a treat. The setting of Gabriel's outside Santa Fe was great and the meal good although we soon ceased seeking out enchiladas, fajitas and hot peppers. Good crepe lunch in a La Fonda hotel franchise in Santa Fe. We had three suppers at two different Flying Stars for light relief, three meals (two takeout) from the Cloud Cafe in Cloudcroft, two lunches at Ruby K's in Los Alamos and a good Japanese meal there at the Origami.

Pleasant surprises: Casita Chamisa in Los Ranchos de Albuquerque has a fascinating history, as well as archaeology, which Arnold told us some of; Silver City provided lots to see and learn, and was the only place where our restaurant waiters engaged us in (informed) political discussion; the Silver River Adobe Inn is a riverside oasis in Farmington and David and Diana gave us much interesting and useful guidance to the region.

Travel map.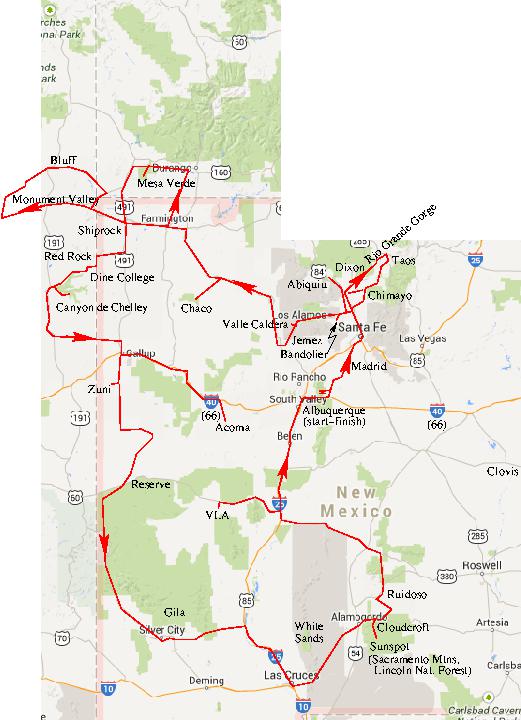 Map: T, 2013/10/9 from Google <!>

Albuquerque, Sept. 17-19, 2013 26 photos, 4.7 Mbytes

Santa Fe, Sept. 20-22, 2013 18 photos, 3.0 Mbytes

Santa Fe, Sept. 20-22, 2013 19 photos, 2.8 Mbytes

Los Alamos, Sept. 23-24, 2013 22 photos, 4.5 Mbytes

Four Corners, Sept. 26-28, 2013 32 photos, 5.3 Mbytes

Western NM, Sept. 29 - Oct. 1, 2013 28 photos, 4.0 Mbytes

Southern NM, Oct. 1-6, 2013 25 photos, 4.3 Mbytes

Albuquerque, Oct 7, 2013 6 photos, 0.9 Mbytes