Travel Information
Accommodation
This year, the Université de Montréal is offering accommodation. If you want to sign up for this, see the
registration page
for details.
Festivals
In the summertime, Montreal is a city of festivals. One of the biggest events of the year, the Montreal Grand Prix, will be happening during June 6-8, 2008, just prior to the summer school. If you are in Montreal during ths time, take a walk down Crescent Street or St-Laurent Boulevard, as both are closed to traffic and are packed with people. Check out the other
festivals
going on in Montreal, too.
In the middle of the map below is the Université de Montréal. Double-left-click on the map to zoom in, double-right-click to zoom out, and use your mouse to navigate.
From the Pierre Elliot Trudeau airport, it costs $35 to get to the downtown area, where the summer school is going to be held.
Getting to the Université de Montréal
By Metro
Below is a map of the Montreal Metro system. To get to the summer school, get off at the Université de Montréal station (on the blue line).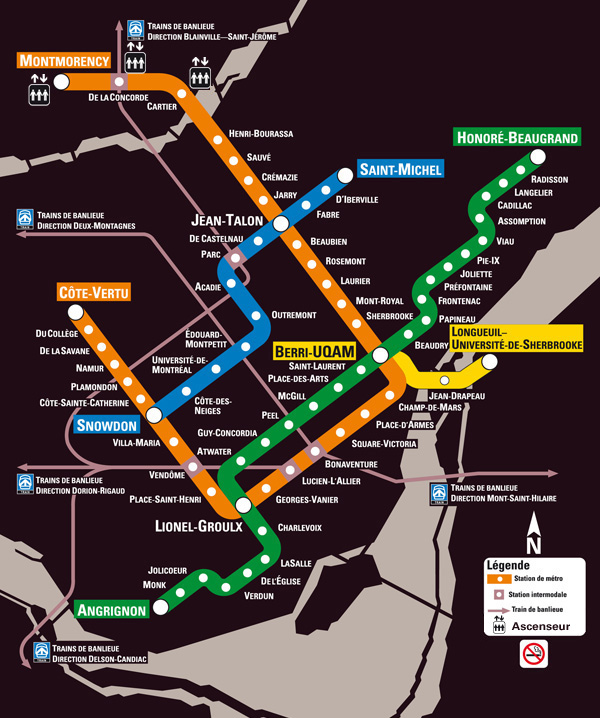 Montreal Information
Food and Drink
If you come to Montreal, you must enjoy some of its famous food. Popular picks include
Schwartz's Deli
(home of the famous Montreal smoked meat) located at 3895 Boul. St-Laurent,
L'Academie
(an always-lively restaurant serving delicious French and Italian food) located at 4051 St-Denis, and
Fairmount Bagel
, home of the famous Montreal bagels located at 74 Fairmount West. More places to eat can be found on the
Tourisme Montréal
site.
Montreal also has a fantastic bar scene. Reservoir (located at 9 Duluth East) and
Brutopia
(located on Crescent and St-Catherine Street) are just two of many bars that can be found in Montreal. Crescent in between Sherbrooke and Réné-Lévesque and St-Laurent are both very popular streets that are packed with interesting bars.
Movie Theatres
Montrealers enjoy their movies, so if you are in the mood to catch a good film, you can.
This
site lists the city's theatres.