---
COMP 303 Best Project Awards - Fall 2006
---
COMP 303 is an object-oriented software development course offered at McGill University. In the Fall of 2006 students had to develop a complete Java Cribbage game from scratch.

A number of groups submitted very well-built, highly-playable products. Three top projects were selected based on how well they meet the general goal of developing a easily-playable and fun cribbage application. These games are now available for download (as self-executing jar files).
Best Project
Congratulation to Alexis Georges and Mathieu Lavallée-Adam for winning the best project award. The attractive and intuitive interface based on DeviantArt incorporates a number of visual cues that simplify the play. The game also supports different difficulty levels. [Download Self-executing Jar].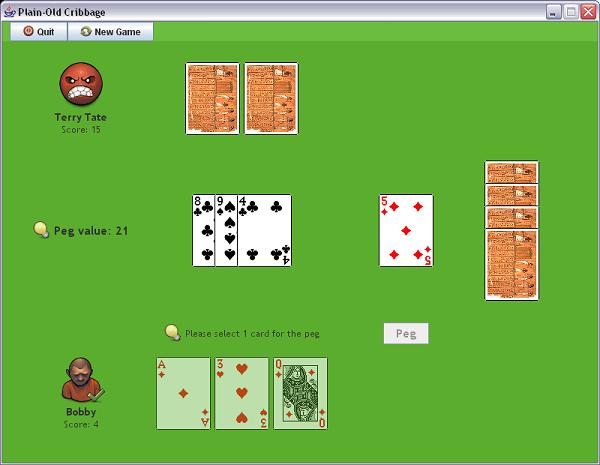 Honorable Mention
Joachim Despland-Lichtert and Arthur Guez produced a feature-laden game that includes (among others) an automatic-play feature. [Download Self-executing Jar]
Honorable Mention
Robert Kaplow and David Meunier's cribbage game involves slow-motion animations of the play of the hands. [Download Self-executing Jar]