Thursday 24 October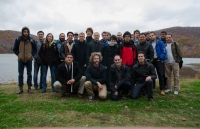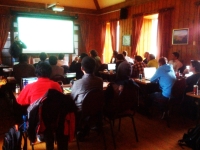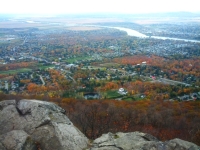 Sponsored by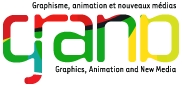 Description
This second Montreal fall graphics retreat brings together students and faculty to discuss work in progress. The main purpose is for participants to solicit early feedback on work in preparation for Graphics Interface and SIGGRAPH. This year will be a larger event with numerous out of town guests, and will be sponsored as a GRAND Cafe Cafe event.
The retreat will consist of short talks of approximately 10 minutes each, followed by up to 10 minutes of questions and discussion. Presentation slides as well as drafts of the papers, in some cases early and in others quite polished, are available to all participants to allow for more meaningful feedback. Paper drafts must be prepared for the 17th of October to permit reviewing before the event.
Directions
The Gault nature reserve is located 40 minutes south of Montreal in Mont-Saint-Hilaire. Please see these directions for getting to the reserve.
Participants
Adrien Dubouchet, University of Montreal
Amir Rabanni, McGill University
Andres Solis Montero, University of Ottawa
Aude Giraud, University of Montreal
Charles Bouchard, McGill University
Cynthia Beauchemin, University of Montreal
David Milaenen, University of Montreal
David Mould, Carleton University
David Quiroz Marin, University of Montreal
Derek Nowrouzezahrai, University of Montreal
Eric Paquette, École de technologie supérieure
François Dagenais, École de technologie supérieure
Guofu Xie, University of Montreal
Jochen Lang, University of Ottawa
Jonathan Dupuy, University of Montreal
Jonathan Gagnon, École de technologie supérieure
Karan Singh, University of Toronto
Marc Jarvis, McGill University
Olivier Mercier, University of Montreal
Paul Kry, McGill University
Pengbo Li, McGill University
Pierre Poulin, University of Montreal
Sheldon Andrews, McGill University
Tiberiu Popa, Concordia University
Yangyang Zhao, University of Montreal
Schedule, Thursday October 24
8:30 - Arrive / Breakfast
9:10 - Welcoming remarks
9:20 - Session 1
Compliant Mechanisms
Turbulence Models
Momentum Pathways
Dynamic Textures

10:20 - Break
10:40 - Session 2
SH Exponentiation
Contact Simulation
Fluid Meshing
Data-driven Fingertips

12:20 - Lunch
14:20 - Session 3
Wrinkle Simulation
Image Sampling
Radiance Caching
Diffusion Surfaces

15:40 - Break
16:00 - Session 4
View Registration
Ray Marching
Subsurface Scattering

16:40 - Closing remarks
17:00 - Departure