THE UNICORNS
MAGIC IN THE DUST BINS
By Ilana Kronick
Featured in "Hour" magazine's "Briefs" section, April 24 to 30, 2003.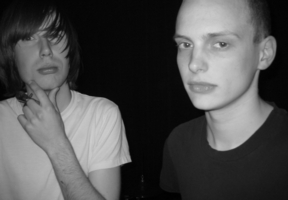 THE UNICORNS: FRAYING THE EDGE OF POP MUSIC
In the tradition of many things quirky, poppy and sentimental, we have here The Unicorns, a friendly duo featuring two young'uns from the West Island, a couple of Casios, a few drum machines and some guitars. With a handful of proud-to-have-shared stages under their belts already (including dream gigs with Daniel Johnston, The Microphones and a near opener slot with Ms. Catpower), this cross-eyed, '90s jangle pop indie is catching on faster than one might have expected.
The secret, as homemade convention teaches, is in the abstract intimacy. Like it's coming from under your bed, this stuff just sneaks up on you and drags you in, smiling, to its skewed reality.
"It's about checking the frayed edges of pop music," says Nicholas "Neil" Diamonds, who "can't speak for" partner Alden Ginger. "You know in the dust pan, once you've swept up the dust, there's that little bit - that stuff. There's some magic in there. The things that aren't high in the mix. Those things I just want to push them to the front."
There is a record to be heard. And though you get the impression that Diamonds would prefer that you didn't hear it, he's just being silly. In the spirit of Ween, the Folk Implosion and any other two-headed creatures with heart, the self-titled debut is all about that palpable off-the-cuff exuberance of two heads plugged together.
"We wrote pop songs and then fucked with them," he says, explaining how once they'd put the tracks down it was just about adding the "smoke and mirrors."
"I guess, ultimately, I want to find the balance between good songs, good beats and just exploration of sound."