! added 140817>
The Memorial
Because the original slate stones from the beach at Agwanis are crumbling in the ground, we installed a stone of polished Vermont granite with the names of Eratus and Evalyn, their four daughters and the daughters' husbands.
HOWARD
Eratus Edwin Howard
1868-1934
Evalyn Isobel Peverley
1878-1953
Harriet Jane Howard
1907-1957
m. C. L. Bryson
Evelyn Howard
1909-1997
m. J. S. Saunders, m. D. F. Macorquodale
Hazel Howard
1909-
m. J. C. Merrett
Alma Clavering Howard
1913-1984
m. P. W. Rolleston, m. M. Ebert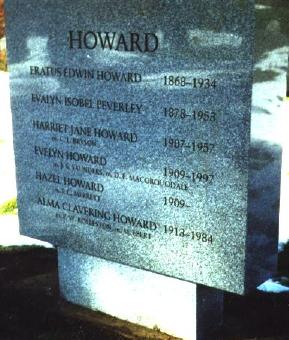 We also made stones of Quebec granite with the first names of those who are buried on the plot, and placed them at the heads of the graves.
The Plot
The Howard plot at Pine Hill Cemetery in Magog holds the remains of Eratus and Evalyn and the ashes of Jane. It is a large plot with room for more family members. The cemetery is on high ground, and from the plot can be seen both Mt. Orford to the north and Owl's Head to the west.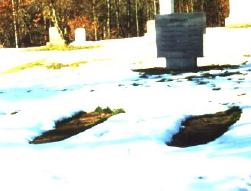 The Dedication
On August 29, 1998, we dedicated the memorial stone with the assistance of Rev. Richard Topping of St. Andrew's and St. Paul's Presbyterian Church in Montreal, of which Eratus was an elder.

We also scattered Alma's ashes on the plot and at the small cemetery plot on Agwanis.

Present were (l to r) Lucinda Lyman, Hazel Howard, Susan Rolleston, Francis Rolleston, Paddy Rolleston, Brian Merrett, Rev. Topping, Mary Ann Mongeau, and Tim Merrett.