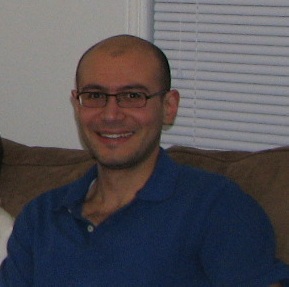 Mohamed A. Layouni
Mohamed.Layouni"at"mail.mcgill.ca
---
Welcome!
I am a former member of McGill's Cryptography & Quantum Information Lab. I wrote my PhD thesis on the topic of privacy-preserving technologies.

During my PhD, I have benefited from the valuable guidance of Professors Claude Crepeau and Stefan Brands, my thesis advisors.
I have also had the pleasure to work with Professors Hans Vanghelue, Bart De Decker, Maki Yoshida, and many other talented researchers.

Following my graduation, I worked in the field of Technology Consulting, in the areas of IT Security, Identity and Access Management, Mobility, Field Workforce Management, System Integration, etc.
---
Research Interests
I am interested in various aspects of applied cryptography and IT Security, including topics such as:
Fully-Homomorphic Encryption; Searchable Encryption; Attribute-based Encryption; Crypto-computing.
Cloud Security; Cloud Computing; Secure Multi-party Computations.
Privacy-preserving Technologies; Privacy-preserving Credentials.
Smartcard-based Cryptography.
Efficient side-channel-secure Implementations of Cryptography.
Elliptic-Curve Cryptography.
Digital Rights Management, IP Protection, and Anti-counterfeit Technologies.
Whitebox Cryptography.
Applications such as Smart Metering, ePayment, eCommerce, eCash, eVoting, eHealth, eGovernment, Electronic Transit Fare Collection Systems, etc.
For questions, or enquiries about possible research or business collaborations, on any of the above or similar topics, feel free to reach out to me at the email address given above.

---
Recent publications
Privacy-preserving Personal Information Management.
PhD Thesis, School of Computer Science, McGill University, Dec 2009.
Full Text: [pdf] | [BibTeX Citation]
Defense Slides: [pdf]



Privacy-Preserving Telemonitoring for eHealth.

Mohamed Layouni, Kristof Verslype, Mehmet Tahir Sandıkkaya, Bart De Decker, and Hans Vangheluwe.

In Proc. of the 23rd Annual IFIP WG 11.3 Working Conference on Data and Applications Security, DBSec 2009, Montreal, Quebec, Canada, July 2009. Lecture Notes in Computer Science 5645, pages: 95-110, Springer 2009.
[pdf] © Springer-Verlag, [BibTeX Citation]



Efficient Multi-Authorizer Accredited Symmetrically Private Information Retrieval.

Mohamed Layouni, Maki Yoshida, and Shingo OKAMURA.

In Proc. of the 10th International Conference on Information and Communications Security, ICICS 2008, Birmingham, UK, October 2008. Lecture Notes in Computer Science 5308, pages: 387-402, Springer 2008.
[pdf] © Springer-Verlag, [BibTeX Citation]



A Privacy-Preserving eHealth Protocol compliant with the Belgian Healthcare System.

Bart De Decker, Mohamed Layouni, Hans Vangheluwe, and Kristof Verslype.

In Proc. Public Key Infrastructure, Fifth European PKI Workshop: Theory and Practice, EuroPKI 2008, Trondheim, Norway, June 2008. Lecture Notes in Computer Science 5057, pages: 118-133, Springer 2008.
[pdf] © Springer-Verlag, [BibTeX Citation]



Accredited Symmetrically Private Information Retrieval.

Mohamed Layouni.

In Proc. of the 2nd International Workshop on Security, IWSEC 2007, Nara, Japan, October 2007. Lecture Notes in Computer Science 4752, pages: 262-277, Springer 2007.
[pdf] &copy Springer-Verlag, [BibTeX Citation]



Anonymous k-show Credentials.

Mohamed Layouni and Hans Vangheluwe.

In Proc. Public Key Infrastructure, Fourth European PKI Workshop: Theory and Practice, EuroPKI 2007, Mallorca, Balearic Islands, Spain, June 2007. Lecture Notes in Computer Science 4582, pages: 181-192, Springer 2007.
[pdf] © Springer-Verlag, [BibTeX Citation]



Controlling access to personal data through Accredited Symmetrically Private Information Retrieval.

Mohamed Layouni.

Cryptology ePrint Archive: Report 2008/129.
[pdf], [BibTeX Citation]



Formal Specification and Verification of the Intrusion-Tolerant Enclaves Protocol.

Mohamed Layouni, Jozef Hooman, and Sofiène Tahar.

International Journal of Network Security. Vol. 5, No. 3, 2007, pages: 288-298.
[pdf] © IJSN, [BibTeX Citation]



On the Correctness of an Intrusion-Tolerant Group Communication Protocol.

Mohamed Layouni, Jozef Hooman, and Sofiène Tahar.

In Proc. Correct Hardware Design and Verification Methods, 12th IFIP WG 10.5 Advanced Research Working Conference, CHARME 2003, L'Aquila, Italy, October, 2003. Lecture Notes in Computer Science 2860, pages: 231-246, Springer 2003.
[pdf] © Springer-Verlag, [BibTeX Citation]



---